Chicago Basement Putting Greens
A basement putting green is a great way to practice your putting through the cold winter months. We all know that you drive for show and putt for dough, so keeping your stroke in check with one of our Nicklaus indoor putting greens is a must. There are multiple options when choosing how you want us to package your indoor putting green, including:
Base Construction
Turf Selection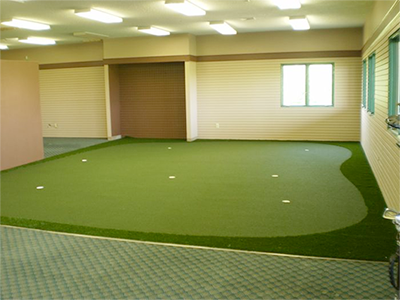 Example Basement Putting Greens Installation
Base Construction:
When choosing how you want the base of your green to be constructed, there are multiple options.
Current Floor System: Most basements floors are slightly uneven. If this is the case in your basement, this is the least expensive option. With this system we can install regulation cups. These cups will require coring through the cement floor or if you choose we can use shorter cups which only require coring a minimum of 2.5″.
Modular Base System: This system will allow us to add undulation using pre-shaped styrofoam under the modular base or custom concrete contouring.
Gravel Base System: This system will allow us to create the most realistic undulation and will allow us to use regulations cups or 4″ deep plastic cups. The gravel base is 6″ deep and may require a 4 to 8″ high paver wall stone border.
Turf Selection
When choosing your synthetic indoor putting green turf, there are 2 options:
Nylon Putting Green: Our nylon putting green turf is the most commonly used for indoor putting greens. This putting turf will give you true ball roll and stimps around a 12. This speed is consistent with most country clubs.
Polypropylene Sand Infill Green: Our infill greens are used by more than 30 of the best golfers in the world. Our proprietary Nicklaus system uses 2 different infill sands, a green topdressing and a cushion beneath the turf. This system allows for true roll and realistic ball reaction when chipping to the golf green. We can set the stimp anywhere from 10 to 15, but remember a fast green is a hard to play green.
Southwest Greens of Chicago has installed many commercial indoor putting greens and residential indoor putting greens. Below is a list of commercial indoor putting green facilities that we have installed to date:
Xavier University
Miami University
Cleveland State University
Wittenberg University
Bowling Green University
Youngstown State University
North Dayton Golf Academy
Shaker Run Country Club
Tee it up Commercial Facility
Maketewah Country Club
The Golf Ranch
Your Name Goes Here!