Synthetic Turf Maintenance
To protect your investment, promote longevity, and keep your synthetic looking as fresh as the day it was installed, Southwest Greens recommends joining our annual Maintenance program, no matter what the application, (Golf Green, lawn, play area, or pet area).
New Installations
Great News! If you schedule a maintenance within the first-year anniversary date of your project completion, Southwest Greens will extend your workmanship warranty by one year. If you continue with Southwest Greens maintenance program for consecutive years, your workmanship warranty could be extended for up to a maximum 10 years.
Maintenance Task
As part of Southwest Greens regular maintenance, the task is simple, make your product shine as close to the original install as possible. This is accomplished by Southwest Greens completing the following steps:
Power Broom or Vacuum surface to remove debris and lift trapped fibers.
Verify all seams are secure and check for and fix raised nails due to freeze/thaw.
Check sand infill levels, (infill if needed – see cost per bag).
Pull weeds and apply weed killer if needed.
Remove discolored green sand and re-top, (1 bag of green sand per 100 sf included-Putting Greens only.
Check, re-align and clean cups – Greens only.
Check conditions of Flags and Flag sticks-Greens only
Sift, Flip, and add sand if requested – Bunkers only.
Mold or Moss Problems
Keeping your surface dry as possible will prevent any mold or moss from developing, but in our weather regions this can be impossible at times. As a preventive measure, Southwest Greens recommends regular treatments using a product called Wet-n-Forget. This product can be purchased on Amazon.com or through most of your local hardware stores. Please follow the manufacturer's instructions for mixing and applying. Repeating applications at least twice a month on dry sunny days, should prevent any excessive growth during the rain periods.
Pricing
Pricing is based on a combination of factors. Southwest Greens wants to be a transparent as possible, so included is all pricing as it reflects to each scenario.
Equipment and personnel transportation cost:
Columbus and surrounding area (25 miles) – $100.00.
Outside Columbus within Ohio – $175.00
Indiana – $200.00
Kentucky – $250.00
Illinois – $250.00
Every State outside those that are listed will be quoted per request.
Maintenance typical:
Golf Greens to include Fringe, Second Cut, T-boxes, and Bunkers – $.90 per sf
Lawns – $.50 cents per sf
Playgrounds – $.40 per sf under 10,000 sf
Playgrounds – $.35 per sf over 10,000 sf.
Bocce Courts $.50 per sf.
Sports fields – Priced Per Job
Moss and Mold removal by wire bristle power broom:
0-250 sf of affected area – $1.65 per s f -determined by Service Tech
251-499 sf of affected area – $1.38 per sf – determined by Service Tech
500-999 sf of affected area – $1.10 per sf – determined by Service Tech
1000 sf and above of affected areas – $.83 per sf – determined by Service Tech
Moss and Mold Extreme removal by power washer:
If the moss and mold is so extreme that the only way to remove is by power washing, then the cost will be $225.00 per hour. Southwest Greens cannot determine how long this would take. It's a case-by-case situation. But beware, that power washing will remove all infill sand as well, so there would be an additional cost to replace all the infill sand. This option is based on customer approval only. We will not proceed without consent.
Moss and Mold Prevention application:
250-499 sf – $125.00
500-999 sf – $150.00
1000 sf and above – $200.00
Golf Green Specified Service and products:
Adjust Stimp Speed of the Green with Compactor/ Roller
250-499 sf – 28 cents per sf
500-999 sf – 22 cents per sf
1000 sf and above – 17 cents per sf
Replace Hybrid 6" cups – $66.00 per
Replace Small Pennant flags – $46.00 per
Replace Large Flag Stick – $46.00 per
Replace Flag – $33.00 per
Infill, (sand), replacement as determined onsite:
Silica-(Lawns, Fringe, Bocce, Sports Fields,) – $17.00 per bag installed.
Top Dressing-(Putting Greens only), – $39.00 per bag installed.
Envirofill – (Pet areas, Playgrounds, Lawns, Sports Fields), – $35.00 per bag installed.
Hydro chill-(Pet areas, Playgrounds, Lawns, Sports Fields), $39.00 per bag installed.
Crumb Rubber-(Playgrounds, Sports fields), $60.00 per bag installed.
Bunker Sand – $50.00 per 6 cubic Feet, (wheel barrel full).
Contact Information
If you have questions or wish to participate in our maintenance program, please contact our maintenance coordinator at maintenance@swgmidwest.com.
"*" indicates required fields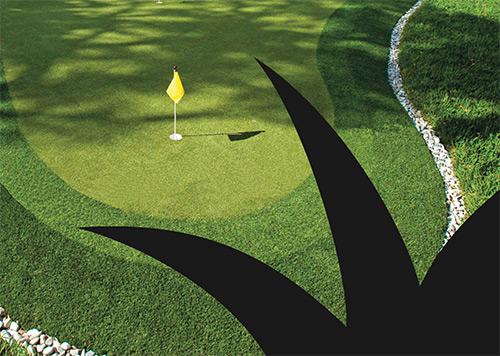 For the majority of homeowners, an artificial turf installation is a considerable investment, and therefore requires proper care and maintenance to ensure that they get the most out of their golf green or lawn.
Download the SWG Golf Maintenance Manual
Link to Purchase Moss & Mildew Remover