New BOLT™ FIBER
Southwest Greens International, a division of Shaw Industries, a Berkshire Hathaway company and one of the leading synthetic turf companies in North America, has announced the launch of Bolt™. Bolt™ is its newest fiber innovation which is highlighted by a cutting-edge shape designed for increased performance and durability.
Kyle Ehman, President of Southwest Greens International, LLC says, "Consistent with Southwest Green's deep dedication to utilizing only the best quality products in our clients installations, we are pleased to announce that Shaw's newest sports performance Bolt fiber will be placed into Southwest Greens' fringe and landscape grass product line."
Engineered to handle the demands of a high-traffic sports surface, Bolt features a patent-pending, lightning bolt-shaped fiber which creates a stronger vertical axis that causes the fibers to stand upright for greater resiliency and increased durability. In fact, Bolt exceeds the most stringent industry standard for simulated wear twice over. Additionally, Bolt's unique cross section features curved angles reflecting light for lower luster and a more natural looking lawn.
Mr. Ehman continues, "The Bolt fiber is engineered from higher grade performance yarns used often in the sports market. If it can withstand the rigors of sports fields, we can assure our customers that they are getting the most durable and aesthetically-pleasing landscape grass in the industry."
The Bolt product line will feature a variety of ounce weights and will be the flagship turf over the next few years. Installations earlier this year in Florida were met with rave customer reviews.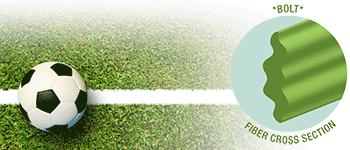 The Shaw Turf 13,000-square foot Sports Science Laboratory includes cutting-edge testing equipment and a full-time staff creating and testing engineered synthetic turf solutions for multiple applications and markets. Products are designed and tested around athlete/surface and ball/surface interactions to ensure the right combination of safety, durability, and performance. In addition to lab space, Southwest Greens also features over 18,000 square feet of on-site, outdoor field testing plots so products are not only subjected to simulated testing but real-world exposure as well.
"We are dedicated to innovation within the Shaw Turf Division with the industry's largest and most advanced sports science laboratory for product development and testing," said Dr. Phil Stricklen, Co-developer and Director of R&D for Shaw Turf. "After reviewing and testing current market and prototype fiber cross-sections, we feel Bolt provides the most unique and meaningful performance qualities available."