Synthetic Grass Cooling System Reduces Surface Temperatures Significantly
HYDROCHILL
Southwest Greens International along with parent company Shaw Industries, recently announced the development of an advanced cooling system called HydroChill Home. This was created to combat the heat on synthetic lawn and landscape surfaces. It is the first heat reduction technology of its kind and the only solution in the industry to result in substantial and sustained temperature differences.
"This is truly a game-changer in the synthetic grass industry," said Michael Bell, Vice President of Southwest Greens International. "We are thrilled with the lower surface temperatures we are seeing across the country. This means more comfort for families and pets even on the hottest days."
Although results will vary due to geographic location and local conditions such as wind fluctuations and cloud cover, HydroChill Home has achieved 30°F to 50°F lower surface temperatures compared to a standard synthetic lawn surface when measured by an infrared thermometer. Research and testing sites have spanned the United States and have included professional service dog trainers, private homes and various professional sports endorsers – all with great success.
"Southwest Greens is committed to bringing innovation to the forefront of the industry, and the new HydroChill Home technology is a result of that commitment," said Pete Sigmon, Vice President of Innovation at Shaw Industries. "This system provides a substantial cooling effect that will have a great impact on families and pets especially in extreme, hot climates."
The technology is applied to a synthetic lawn where components react and form a coating on the infill. The lawn is watered to activate HydroChill Home and then energy from sunlight drives out the water, removing heat from the surface and leaving a cooler, more comfortable surface for synthetic grass users. While watering alone can result in some cooling, temperatures can quickly rise and exceed uncomfortable levels of heat. The cooling effect of HydroChill Home after rainfall or watering can last days depending on local conditions and is most effective when surface temperatures are hottest.
HydroChill Home provides maximum benefit when the sun is nearest the Earth. During the summer months the sun is positioned directly overhead causing surfaces to absorb more energy, resulting in hotter temperatures. Temperature differences of 50 degrees have been recorded on real world, outdoor tests.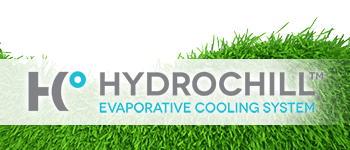 Those hot months are having a great effect on everyone, especially families. Take a look at these facts:
Of the energy absorbed into turf from solar radiation, 90% is released as heat, while only 10% is conducted into the ground.
2012 was the hottest year on record in the United States.
2011 and 2013 were the 2nd and 3rd hottest summers on record.
Seven of the 10 hottest summers on record have occurred since 2000.
More than 80 million people in the United States experience 100 degree temperatures where they live in 2012 (that was 10 million more people than in 2011).
The research behind HydroChill Home has been extensive and has been conducted for nearly three years, both in laboratory tests and in real-world outdoor applications. Tests on a variety of surfaces were conducted with thermocouples, an Infrared thermometer and by a certified thermographer with a Forward Looking Infrared (FLIR) camera.
"In addition to testing in the field, we have an entire lab in our testing facilities dedicated to the study of heat on synthetic turf," said Greg Fowler, Shaw's Director of New Business Research & Technology. "It houses a custom-built solar simulator with a watering mechanism that simulates rainfall so testing can be conducted on a year-round basis."
HydroChill Home is now available and can be used with most new or existing Southwest Greens' lawns.